Bathroom Conversion for Accessibility
Bathroom Conversion for Accessibility
Do you have a disability or special mobility requirements? If so, your bathroom should be designed to accommodate your needs. One call to an In-Trend Home Solutions accessibility expert can help you make the space more accessible and comfortable. We also offer extensive tips for bathroom accessibility mods, fixtures and handicap bathroom accessories that can help create a useable space for those with physical limitations.
Accessible bathroom to your requirements & specifications
Designing the Perfect Space for those with Physical Limitations
If a member of your household uses a wheelchair or has other requirements related to mobility, your bathroom should accommodate those needs. Make sure the space is accessible and comfortable. This guide highlights how to make a bathroom handicap accessible and gives tips for fixtures and handicap bathroom accessories that can help create a useable space for those with physical limitations. Bathrooms form an integral part of our daily lives – not just as functional spaces but also as places we have designated time out from life's stresses in order to relax and rejuvenate ourselves. Just like any room within the home.
Questions That Your In-Trend Accessible Bathroom Specialist Will Work With You To Answer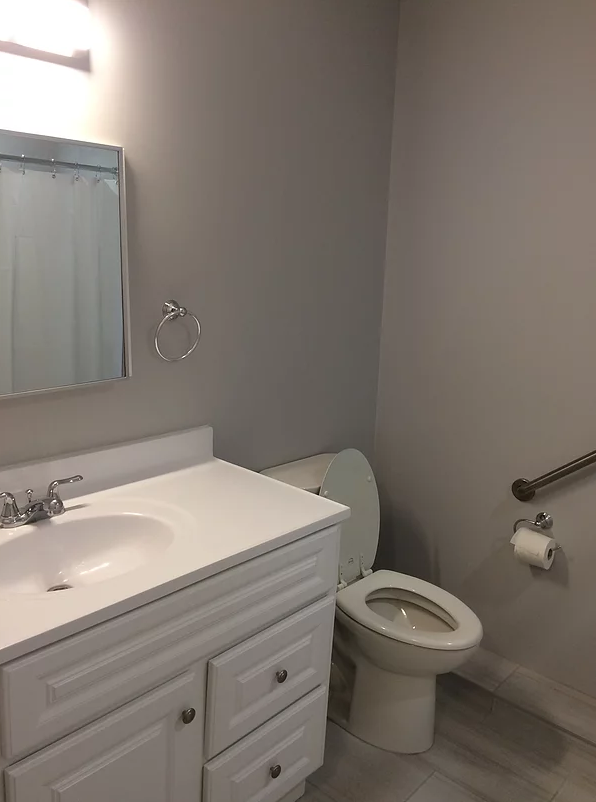 Affordable & Professional Accessible Bathroom Renovations
In-Trend Makes Bathrooms Accessible To All
The bathroom is one of the most difficult rooms in a house to make wheelchair accessible. Plumbing fixtures, shelves and storage must all be installed at different heights depending on what type of accessibility you require for your bathroom. But don't be afraid! If any person in your household requires assistance with mobility or has an illness that causes them to use a wheel chair there are many things about bathroom design that can be affordably and efficiently changed to make your life so much easier. If you're looking for a bathroom remodel that's both accessible and stylish, look no further than the team at In-Trend Home Solutions. We have years of experience working with clients to create bathrooms that are beautiful and functional. Let us know what your needs are so we can design something perfect just for you!
Bathroom Conversion Services
Our partners have over 50 years' experience in general contracting, restoration, and in servicing the accessibility industry dealing with homeowners, insurance companies and adjusters. We work with lawyers, health professionals, realtors and property managers. We also do work with nonprofit organizations and governments in a professional manner. We have vast experience dealing with time sensitive work and never sacrifice our high standard of quality. All of our work meets the local building codes.