luxury steam shower installation services
Explore The Rejuvenating Effects Of Residential Steam Showers
It's no secret that a luxurious bath experience can be hard to come by. A steam shower, on the other hand, is something you can enjoy at home. Steam showers are essentially a type of bathing where humidifying water vapour is dispersed around your body. Homeowners are opting to invest in residential steam showers and residential steam heads to recreate a luxury spa-like experience in their own homes. In-Trend Home Solutions have been creating custom bathrooms with quality bathroom renovation partners and materials such as luxury heating elements and temperature controls for years. We can help create the steam shower experience and design you're looking for.
shower and bath modifications for home therapy
Installing a steam shower at home requires the services of a few professionals to get things installed correctly and on time. Experienced heating technicians are needed to provide the heated water vapour from the humidifying steam generator that then spreads around your body and can be adjusted to any temperature that you desire. This type of bathing has been shown to offer numerous benefits such as improved skin health, increased blood circulation and much more. Until recently, only those who lived in higher-end homes could experience the luxury of a steam bath. Today, thanks to new innovations and technological advancements that make it possible for homeowners to enjoy the steam experience even with handheld showerheads or body spray nozzles. Virtually anyone can have a home spa day just about any time they want!
In-Trend home modification specialists can help show you the benefit of curbless showers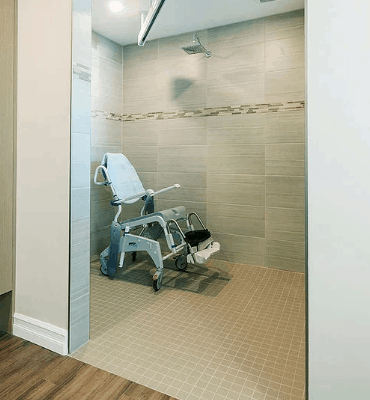 Why you need a steam shower
In-Trend Makes Showering Enjoyable For All
We make the process easy and do everything from start to finish. We'll help you choose a steam shower, design and organize the new layout of your bathroom and even take care of all permitting requirements with our experienced team including an electrician for permits that are required by local codes. Call today to begin your luxury home steam shower installation journey!
Steam Shower Installation Experts
Our partners have over 50 years' experience in general contracting, restoration, and in servicing the accessibility industry dealing with homeowners, insurance companies and adjusters. We work with lawyers, health professionals, realtors and property managers. We also do work with nonprofit organizations and governments in a professional manner. We have vast experience dealing with time sensitive work and never sacrifice our high standard of quality. All of our work meets the local building codes.