When it comes to making your home more accessible to visitors and family members with mobility limitations, a little can go a long way. Accessibility isn't always a matter of scrapping the foundation of a building and starting over. Read on to discover 10 small ways you can make your home safer and more comfortable for everyone.
How to Make Your Home More Accessible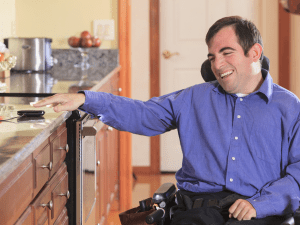 1) Accessibility begins at the front step. Does your threshold get slippery in the winter? Is your walkway equipped with sufficient outdoor lighting? Illuminate the way and install handrails where necessary.
2) Consider widening doorways and entryways if you or someone you know requires a large mobility device such as a wheelchair.
3) Focus on the first floor. Make sure the base level of your home is completely functional in case someone cannot make it to necessary facilities upstairs. The first floor of your home ought to have at least one bedroom and bathroom.
4) Look at bathroom accessories. Walk-in showers are quite popular, but for smaller renovation projects, support rails are viable as well. Risers on toilets can make it easier for people who struggle going back and forth between sitting, squatting, and standing positions to use them.
5) Lower shelving and countertops. If you're up for a slightly larger project, you may want to replace your cupboards with open shelving.
6) Widen the hallways. Similar to number 2, people with mobility issues will be grateful to have room to adjust themselves and their gear. It's tempting to decorate the halls with shelves and end tables, but any amount of clutter could be too much.
7) Replace troublesome doorknobs. Conditions like arthritis that affect the grip may make it difficult to turn traditional round knobs. Consider lever-style handles instead for an option that's gentler on the hands – and more sanitary!
8) Have sufficient indoor lighting. In-Trend Home Solutions can assist in installing additional light switches, fixtures, and electrical outlets. Be aware that some light bulbs can trigger migraines or be overstimulating; consult with In-Trend to find the ideal layout for your situation.
9) Embrace technology. Antiquated clap-on lights have been replaced – and far surpassed – by voice-controlled smart devices like Alexa and Pixel. Special light bulbs can even be programmed to be compatible with these devices to change colour and intensity.
10) Invest in a ramp. Check the building codes in your area to see if you'll require a permit before construction.
The house you live in can become the home you thrive in. Tiny accommodations make a huge difference.