curbless showers and linear drains
Curbless Walk In Shower Installation
If you are looking to remodel your bathroom, curbless walk-in shower systems may be just the thing for you. The safety and accessibility of these showers make them popular among families with children or seniors in need of a little extra help. Curbless walk-in showers have lower thresholds than traditional bathtubs which makes it easier for kids and adults alike to get into the tub without worrying about falls. This is not only safer, but also more convenient for people who use wheelchairs or mobility devices as there are no steps on either side of the door that require climbing over.
shower and bath modifications for limited mobility
What is a Curbless Shower?
Curbless shower systems also offer a large walk-in space and the lack of a tub curb or flooring curb makes it easier for all members of the family to sit, stand or kneel comfortably depending on mobility requirements. The flooring is always level which means that you don't need to worry about slipping on wet tile if someone accidentally spills their drink in your kitchen while cooking dinner. This type of bathroom remodeling can be an affordable accessible solution for many families who want a safe bathroom without having to make major changes like installing wheelchair access or widening doorways.
In-Trend home modification specialists can help show you the benefit of curbless showers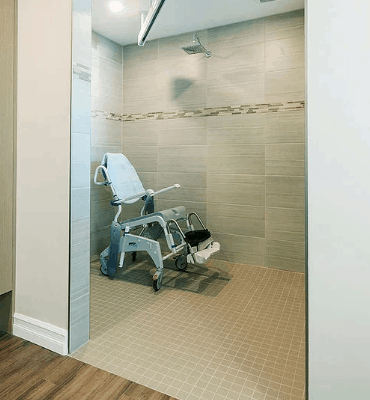 Why you need a curbless shower
In-Trend Makes Showering Accessible To All
If you want more ideas on what accessibility features are right for your home and need some more personal guidance, call In-Trend Home Solutions today! Our team is waiting to answer any questions about our curbless and accessible bathroom services and can walk with you through the process from start to finish.
Curbless Shower Installation Experts
Our partners have over 50 years' experience in general contracting, restoration, and in servicing the accessibility industry dealing with homeowners, insurance companies and adjusters. We work with lawyers, health professionals, realtors and property managers. We also do work with nonprofit organizations and governments in a professional manner. We have vast experience dealing with time sensitive work and never sacrifice our high standard of quality. All of our work meets the local building codes.