Home Modifications for aging in place and limited mobility
Home Modifications For Accessibility
You may think that home modifications for accessibility are just a concern for the elderly or disabled. This is not true! Home modifications for accessibility can help people of all ages and abilities live more comfortably at home. In-Trend Home Solutions can help you in many ways to prepare your home so that it is accessible and comfortable for everyone who lives there.
Accessible modifications to your requirements & specifications
Home Modifications Where Anything Is Possible
Home modifications for accessibility can include things like installing a ramp to make it possible to walk up and down steps. It can also mean adding railings on steps or around the bathtub may be helpful, especially if you have had an injury in this area before. Other mods we often complete are wheelchair ramps which are important because they allow someone who uses a wheelchair access into your home without having to go through doors that might not be wide enough for their chair. If you don't need one now but might at some point, we recommend getting them installed as soon as possible so there is no hassle when the time comes! Smaller simpler changes can be done such as painting hallways with contrasting colors and using brightly colored door handles will help people with low vision navigate their way through the house.
In-Trend Home Modification Specialists Can Help Suggest The Right Modifications For You: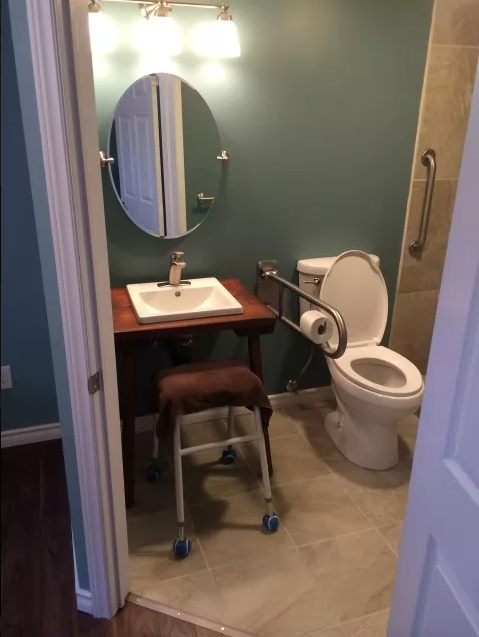 Affordable & Professional Home Modifications
In-Trend Makes Homes Accessible To All
It's never too early or late to make your house more accessible. Even if you live alone, there are lots of simple modifications that can be done without a lot of money or time. It can be as simple as making the doorbell easier to hear and see from inside the home, installing grab bars in bathrooms with tiled floors, adding hand grips on kitchen cabinets near sinks. They can also be more complex like renovating cabinet heights or creating an easy way out through your doors by using exterior knob handles instead of knobs mounted within frames.
Whether you need something as small as installing grab bars for safety near sinks or want more complex renovations like adjusting cabinet heights so they're within reach, we have what you need at an affordable price. If all this sounds great but daunting (or if you don't know where to start), just give us a call today. We'll help design solutions that work with your budget and timeline so everyone has a safe place
Home Medification Experts
Our partners have over 50 years' experience in general contracting, restoration, and in servicing the accessibility industry dealing with homeowners, insurance companies and adjusters. We work with lawyers, health professionals, realtors and property managers. We also do work with nonprofit organizations and governments in a professional manner. We have vast experience dealing with time sensitive work and never sacrifice our high standard of quality. All of our work meets the local building codes.