Good kitchen design provides accessibility in all the right places. When you plan a renovation around accessibility, you make it easier for those with physical or mobility limitations to cook, get ingredients, and move around the kitchen with ease.
While the design elements you choose ultimately come down to your individual needs, there are many areas to consider when renovating with accessibility in mind. Here are some accessibility kitchen renovations that will make your life a lot easier!
Ensure That There's Plenty Of Open Space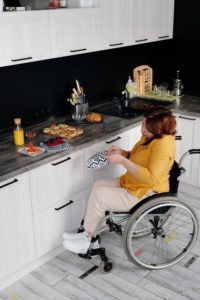 Space planning is crucial to accessibility renovations, especially if you want everyone in your family to reach all the cupboards, drawers, and appliances in your kitchen. Having extra floor space between any kitchen islands and the countertops and easy-to-access appliances are some of the more crucial design elements to consider. 
If you or a loved one uses a wheelchair, more open floor space gives them lots of turning radius to better move about the kitchen. Ensuring that, between all the counters and islands, there is between 42″ and 48″ will create a kitchen everyone can use.
Lower, More User-Friendly Countertops
Typical countertops have a height of 36"; if it's bar style, it can go up to 43". These measurements can be inconvenient for those with mobility issues or who need wheelchairs. Luckily, there are several ways to renovate the countertops to improve their functionality for everyone!
To make the kitchen countertops more accessible, you should have the surface go no higher than 34" – while it might not seem like a lot, these few inches can make a world of difference for many users! However, if you want a counter that serves many different people and abilities, install adjustable countertops with a range of 28" to 36" in height. The workspace should also be, at minimum, 30" wide. 
You can also renovate the area under the sink to have space below for better wheelchair access. Consider adding pull-out storage next to the sink to keep cleaning supplies handy. Anyone ageing in place should also have countertops rounded edges rather than sharp corners; this can help avoid hitting corners that would cause injury.
More Accessible Storage Spaces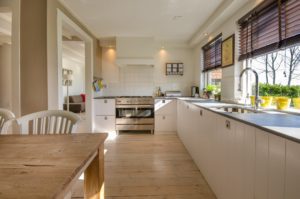 One of the most accessible unfriendly parts of the kitchen tends to be the cabinetry. Often placed above the counter and going right to the ceiling, getting what you need from kitchen cabinets can be next to impossible for many people. By choosing a new layout for your cabinets, you'll make the kitchen a friendlier place for everyone and stay happy with your renos for years to come.
If you're planning the cabinets and drawers in your new kitchen, consider what you'll need to access most often and position all the essential storage in safely accessible areas. Focus on base cabinet storage with bespoke pull-outs, drawers, and roll-out shelves for tableware.
Hire A Contractor Who Knows The Importance Of Accessibility
Customers have much to consider when designing a fully accessible kitchen for their current needs or when planning on ageing in place. Before you commit to any accessibility renovations, make sure to hire a contractor or remodeler who has the proper knowledge and experience working for clients like you. When you choose the right contractor for your specific renovations, you will save money, time, and the potential for injuries!