Accessibility renovations are becoming more important than ever, but luckily, they're also more accessible than ever. Even if you're not a senior or living with a disability, these renovations and design changes will radically alter how you see accessibility and help you.
The five accessibility renovations to add in 2021 can help you think about your future needs when you're considering a new build or a custom retrofit of your current house.
Walk-In And Roll-In Showers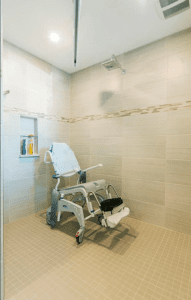 Bathing accessibility is always important. While your first thought might be stability features like a grab bar or seat, you will never regret designing a shower or bathtub for better mobility and wheelchair access. Roll-in showers have a tile floor flush with the bathroom floor that slopes down to drain appropriately. With no barriers like a raised tub edge, nothing can impede a person's mobility or prevent wheelchair access.
Lever Door Handles
In many accessibility renovations, the little things can make big differences. For example, installing lever handles on all doors may sound small, but they provide a much better grip than traditional doorknobs. They make it easier for those with grip problems to enter, exit, and securely close rooms. You'll find them in a wide variety of shapes, materials, and finishes!
Lowered Light Switches, Raised Electrical Outlets
Making homes more accessible for 2021 and beyond means considering how homeowners and guests use the utilities. Lowering light switches and moving electrical outlets higher off the ground serves a purpose: it allows those in wheelchairs or other assistive devices to comfortably reach them from a seated position.
Raising the outlets also lets you reduce the number of cords and wires that could be lying on the floor, eliminating many potential tripping hazards.
Voice Activation & "Smart" Renovations
Technology doesn't have to be intimidating – it is easy to use and can be quite liberating! In 2021, voice-activated and smart utilities have never been more accessible. Thanks to a concept called "the internet of things," more appliances and home objects make good use out of your wifi. Now, homeowners can make smart renovations that are actually smart, improving accessibility through voice activation technology, smartphones, tablets, and other tools you probably use anyway.
While we highlighted a way to make light switches more user-friendly, some homeowners may consider taking it out entirely! Voice-activated lights make it easy and safe to navigate a dark home. Home technology is advancing all the time, making systems easier to use and more affordable so that all homeowners can add them for a wide range of uses – temperature, home security systems, and even opening and closing the garage door.
Flexible Rooms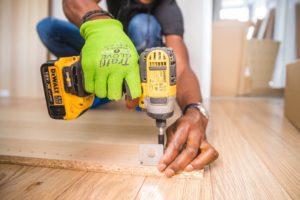 The kitchen and bathrooms are the only areas that have some permanence in a home. It's why you should look at all other rooms with one of the seven principles of Universal Design in mind: Flexibility In Use. The term means that people with a wide range of individual preferences and abilities can use a space unimpeded.
If you have to remake a room in the future, designing the features with flexibility in use makes it easier to accommodate these new uses. For example, a spare room you use as a home office could be a bedroom in a pinch.