Accessibility is vital in making sure everyone, regardless of ability or age, can live their most fulfilling lives possible. All occupational therapists and rehabilitation experts should familiarize themselves with the importance of accessible offices, clinics, and living spaces. If you are a rehab professional contemplating a renovation, read on and consider these benefits.
Serve Your Clients More Effectively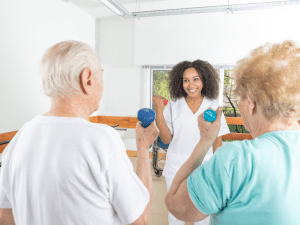 One of the key components of accessibility is comfort. If your career is in rehabilitation, you surely want to do all you can to support your clients and help them feel comfortable enough to progress in their recovery. Consider installing mobility devices if your workspace has stairs, or lower surfaces to account for clients in wheelchairs or of shorter stature. 
Another key – and mandatory – element of accessible spaces is safety. Case managers, OTs, and personal injury lawyers must all keep their workspaces up to code for the protection of their patients and clients. A renovation conducted by professionals eliminates the possibility of your place of business not meeting the Canadian industry standards of safety.
Secure Your Space – and Your Future
Not sure if it's the right time to renovate? Modifying your workspace now will minimize potential future accessibility-related issues. Anybody can experience a life-altering injury or become chronically ill. The future is uncertain, but what we can be certain of is that our bodies and needs will change over time.
An investment that considers the potential future needs of your client base, visitors, family, and self is a smart investment. Working with In-Trend may open your eyes to the latest innovations in accommodating technology and options that work for you. Consult with planners to see how your space can be improved.
Rehab Professionals are People, Too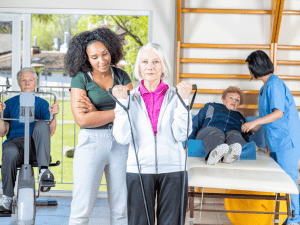 Your home should be a relaxing place that feels truly yours. Your office should be a productive place where your professional life can flourish. As such, customizing your spaces to your personal needs only makes sense. Listen to your body. If your knees tend to buckle getting in and out of the shower, a support bar would provide relief. If that front step outside bothers you, consider installing a ramp. Accommodating yourself allows you more power to accommodate others.
If you're on the fence about renovating your home or workspace, remember: an accessible world is an inclusive world. Plan accommodations for your limitations, and nothing will stop your success.