Walk-in showers are all a true renovation trend, whether or not the design of the bathroom is meant to be more accessible. If that is your intention, the walk-in shower can help people with a wide range of mobility issues – it can even act as a roll-in shower! Here's why you should add one to your bathroom!
What Is A Walk-In Shower?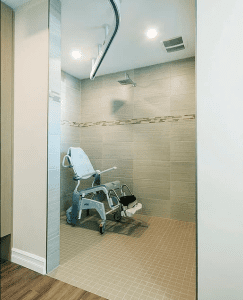 A walk-in shower is what it sounds like: a fully open and tiled space without any enclosing walls or doors. The floor of the bathing area should also be flush with the rest of the bathroom. 
The rest of the layout depends on your existing bathroom and your preferences: some walk-in showers are closed off by half walls, others by half panes of glass. The overall idea is that it is entirely or partially open, letting the user walk into it.
This kind of shower is more accessible to those with mobility issues or who use a wheelchair because true walk-ins don't have a barrier or a threshold to step over. 
Why Do You Need A Walk-In Shower In Your Bathroom?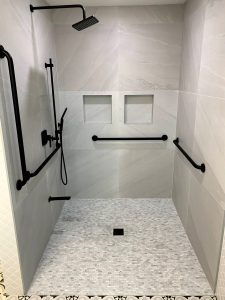 There are many reasons to add a walk-in shower to your bathroom. They are spacious but still able to fit in the small space your bathroom affords. Stain- and moisture-resistant tile makes them easy to clean, too!
A lack of doors or curtains creates a more visual space, working well with a minimalist aesthetic. Unlike standard shower stalls, walk-ins don't need a curtain or door to block water spray, giving the whole bathroom a spacious, open look.
There are many luxurious features you can add to your walk-in shower. Multi-nozzle sprays are standard, for instance – depending on your individual preference, you can have as many as ten spray nozzles directing water to all sides of your body!
Walk-In Showers Are More Accessible 
When remodelling the bathroom to accommodate the elderly or persons with restricted mobility, it's necessary to consider their long-term needs. It's why you should trust your walk-in bathroom to contractors who know the importance of quality craftsmanship and proper support for safe, long-term accessibility renovations.
A lot goes into making walk-in showers. For instance, the walls must have the proper support for custom accessories, including shower seats, benches, and grab bare. Plywood backing on all shower walls can provide this support, but unless you had renovation experience, you might not know it.
You need a walk-in shower because they offer the widest range of possibilities possible for a home shower, both from an accessibility standpoint and for ways to enjoy it. From rainfall showerheads to steam baths, they can offer you more options. Most of all, walk-in showers look beautiful in any bathroom, no matter your style!