Do you need outlets customized to the needs of you or your family? Often, the outlets in your home are not well-placed for use. However, it's never been easier to add more, and the options available are incredible. The innovative designs of new custom electrical outlets mean you'll find the ideal solution to your power needs!
Outlets With USB Ports
Right now, the most popular addition to electrical outlets is the USB port. A powered USB charger can charge two devices at the same time, freeing up the other outlets for use with standard kitchen and bathroom devices. Having a USB port at every outlet lets you charge smartphones, tablets, and other devices without you having to find a USB wall charger.
Pop-Up Outlets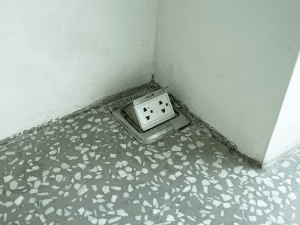 When planning their electrical outlets, people often forget that they will be visible! If an outlet is installed in the wrong location, it can ruin the look of a room. If you love the idea of your outlets being out-of-sight when you don't need them and readily available when you do, pop-up outlets are an ideal option. 
Right now, many of the best options pop up (or even pop out) from the side of the counter, a kitchen island, or base cabinetry. They lay flat when closed and pops open with a simple touch to the cover.
Outlet Strips Along the Upper-Cabinets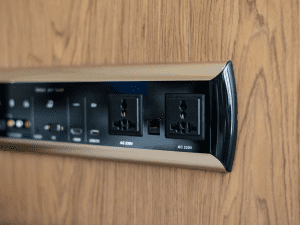 Ground fault circuit interrupters (GFCIs) are a type of circuit breaker outlet that are common in kitchens and bathrooms – damp areas where users are prone to dangerous electric shock. You'll know them by the two rectangular buttons between the socket. A GFCI outlet reduces the risk of injury because, should it detect an electrical fault, it can shut off the power right at the outlet. 
Of course, you might want to make sure this essential outlet is a bit more subtle in your carefully designed kitchen or bathroom. One of the most popular options for GFCI outlet strips is placing them along the upper edge of the cabinetry. Here, the outlets can't be seen unless you bend down or look up at them. Your cords can also run along the back of the countertop, letting them stay out of the sightline and less prone to getting tangled or splashed.
If you're choosing a power strip, you'll find they come in finishes that help them blend into the wood of your cabinet. If you have cabinet lighting, you can also mount them parallel to these strips to make them not visible. 
Drawer Charging Station
In many homes, what draws the eye to outlets is not the outlet itself but what's plugged into it. A stand mixer in the kitchen will cover the outlet into which it's plugged; a smartphone won't. If you think more outlets – and more cords and devices – will create an eyesore in your room, convert a drawer or cabinet into a charging station. 
Here, you can hide the outlets at the back of the drawer or cabinet, keeping them and your phones, tablets, speakers, and other devices from creating kitchen clutter. It's easy to customize, and you won't have to fight with your devices for more counter space!